The Westlink M7 Shared Path is just under 40kms long and stretches from Prestons to Baulkham Hills.
It runs alongside the Westlink M7 and is separated from road traffic. It has its own bridges over roads and creeks, allowing users to enjoy an uninterrupted trip for nearly 40 kilometres.
For most of its length, the path is 4m wide to provide plenty of space for both pedestrians and cyclists.
The path provides important recreational, transport and health benefits. It integrates into surrounding pedestrian and cycle networks, offering an alternative transport option to employment areas such as Norwest and Eastern Creek. It also connects to recreational facilities such as the Western Sydney Parklands.
The Shared Path has a 30km/hr advisory speed limit to ensure the safety of all users. It is also a legal requirement that dogs on the shared path be kept on lead.
The Shared Path Map shows entry and exit points, as well as local attractions and amenities.
If you have any questions or would like further information about the Shared Path, please email Westlink M7. Or, you can subscribe to receive email alerts on news, events and planned maintenance work on the Shared Path.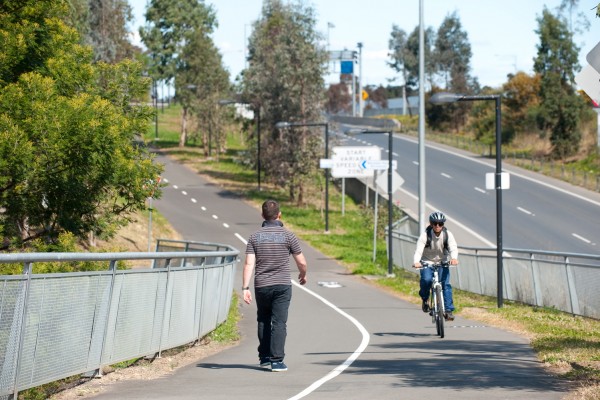 Westlink M7 Shared path map
Download a detailed shared path map featuring amenities available along the track and nearby.