Light Horse Interchange
The Light Horse Interchange, Australia's largest interchange, is located at the intersection of Westlink M7 and the M4 Western Motorway. It is named in honour of the famous Australian mounted military units who had a training camp at Wallgrove Road. The Interchange allows access to the M7 from the M4 in all directions. There are three levels of on/off ramps for safe and easy travel between the motorways.
The interchange is 23m above the M4 at its highest point and 16m above the Wallgrove Road Bridge
18 bridges make up the interchange, including the 431m northbound and 397m southbound M7 bridges
802 bridge segments were used in the interchange. Each segment weighs between 40-100t
There is a separate Westlink M7 Shared Path bridge for the safety of cyclists and pedestrians
Light Horse Sculpture Parade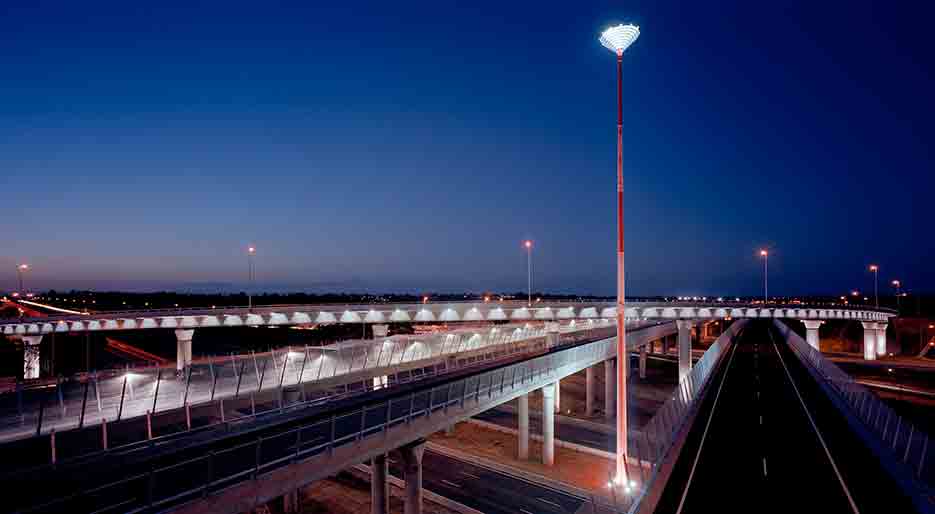 The Australian Light Horse Sculpture Parade is dedicated to the heroic troops who served in the Australian Light Horse, and their horses who weren't able to return home.
The sculpture has a central mast and 4 sets of radiating markers representing the Australian Light Horse on parade. The 55m high mast with its reflective crown, located at the centre of the Light Horse Interchange, provides a focus to the sculpture.
The lit mast and crown symbolise a torch in the dark. Red, the colour of the Flanders Poppy and poppies that bloomed throughout Palestine, is symbolic of the blood that was shed and is the colour chosen for the sculptural group. The abstract plumage attached to each marker represents the emu plumes attached to the Light Horsemen's slouch hats. The white band is a reference to the departing soldiers' innocence.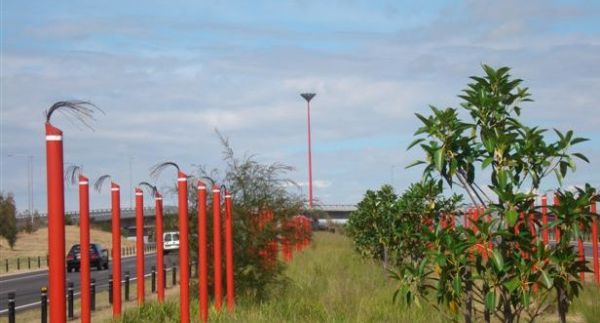 Australian quarantine regulations prevented the return of any horse that had survived the battles. Old and sick horses were shot, while the remainder were handed over to British units. As a reminder of the horses the Light Horsemen had to leave behind, there is no physical representation of the horse in the sculpture.
We acknowledge the support of the Returned and Services League of Australia (NSW Branch), its former President Rusty Priest AM, and the assistance of Lieutenant Colonel Richard Hall DSM and Colonel John Haynes OAM, President of the Royal Australian Armoured Corps Association of NSW.
Cutler VC Interchange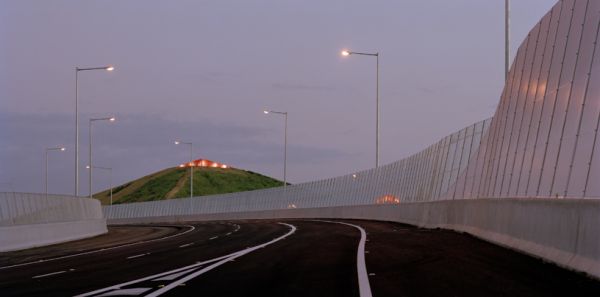 The southernmost interchange at the junction of the M5 and M7, known as the Cutler VC Interchange, was rededicated in August 2016 to honour New South Wales' longest serving Governor and one of Australia's most decorated soldiers, Sir Roden Cutler.
When travelling near the landmark you will see a light pole, which lights up at night and sits on top of an earthen pyramid structure. Three new signs around the base of the interchange also light up at night and feature the Victoria Cross insignia to honour Sir Roden Cutler for his exceptional courage in Merdjayoun in June 1941. Read more about the Remembrance Driveway
The 45 timber poles standing at the edge of the interchange evoke the memory of the Cumberland Plain Woodland, the indigenous vegetation of the area. Read about our Cumberland Plain Woodland conservation efforts

Download this information
Fact sheet - Historical features (PDF 218KB)